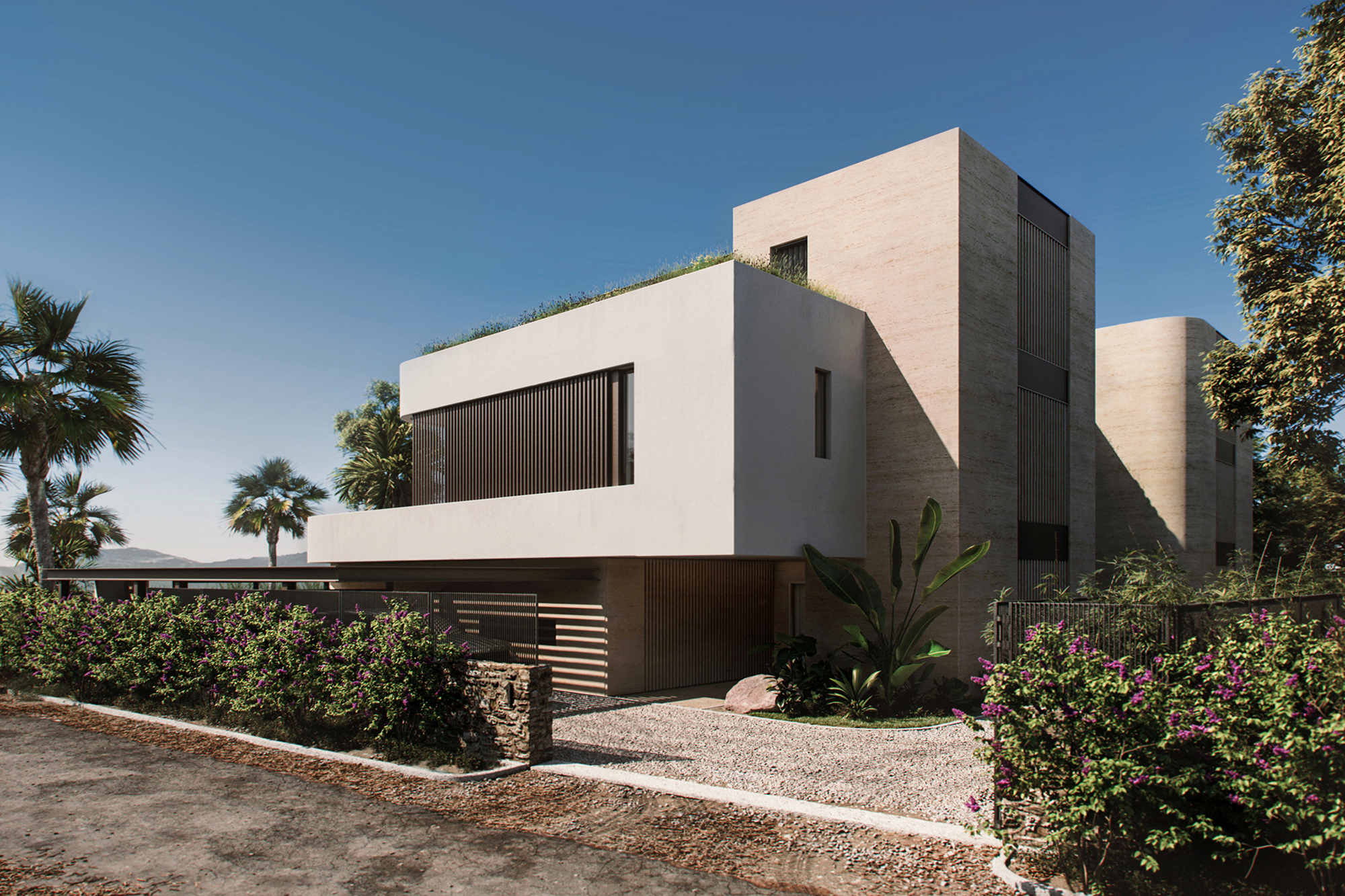 These two residences are located in Nea Makri, a town in East Attica, Greece. The site is located a few meters from the coast line enjoying views towards Petalioi Gulf, a gulf of the Aegean sea. The project consists of two, identical summer residences, designed to resemble one unified structure. In essence, these two residences are completely independent, with the only shared element being the main entrance from the road. Three key elements to a successful summer house are natural light, water and plants and therefore the main focus of the architectural design was to enhance these essential components. In addition, another important aspect of the design approach was to blur the line between interior and exterior spaces. Hence, the use of large floor to ceiling sliding doors towards the pool and garden areas.
The main entrance from the road takes place from the back side of the site allowing the building to develop in such a way that orients most of the spaces towards the stunning views of the gulf. Each residence enjoys its own parking spots within the boundaries of the site. On the ground floor of each property, one will find the main entrance hall, and all communal spaces such as living rooms, dining areas, the kitchen and a guest bathroom. The first floor, houses all bedrooms of the residences. Finally, each residence has a roof garden area with a bar and an outdoor seating area overlooking the bay.
The palette of materials chosen for Alcyone Residences seeks to enhance the sense of serenity and calmness that the design is focused on while simultaneously augmenting the summer vibe the architecture is projecting. The base of the building as well as the large solid volumes located on the back side of the structure are treated with travertino stone, amplifying the sense of solidity. This solidity is interrupted by a more fluid volume of white plaster, which is essentially the enclosure of the first floor. Finally, all steel elements of the architecture such as pergolas and the shading system on the facades add some darker hues to the composition, all in earth tones.