Nikos & Dimitris Moustroufis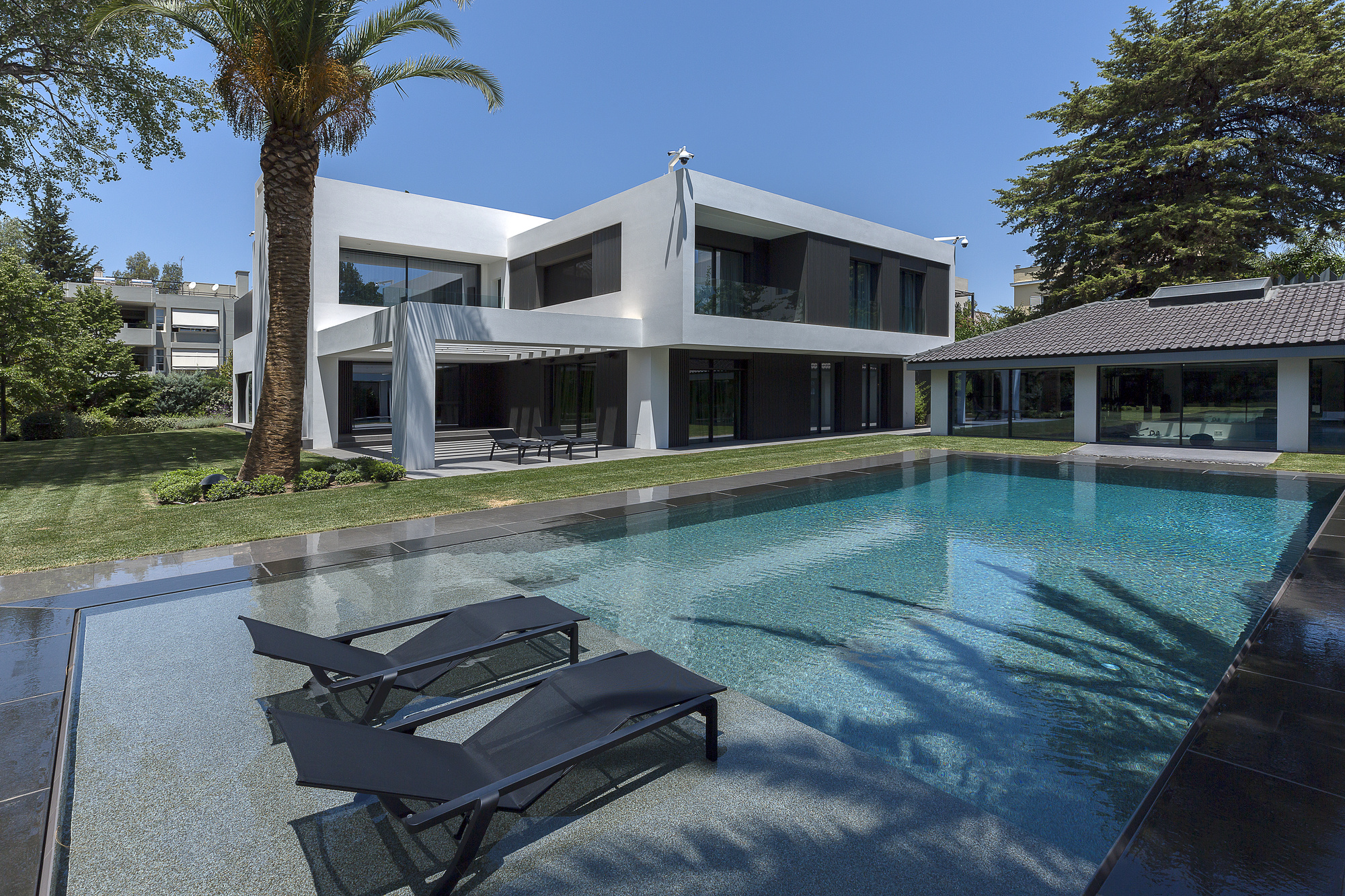 This residence is located in Filothei, in the northern suburbs of Athens, and is situated in a large rectangular site of 2.280m2. This building was formed by renovating and expanding a pre-existing residence on site.
Respecting the orientation and the architectural language of the initial building on site, the emerging residence appears to be a harmonic transformation of the existing structure into a single-family house fully equipped to suit the needs of the modern way of life.
The program of the residence is developed in three stories, a basement, a ground floor and a first floor. In the basement, we encounter a garage, a guest bedroom, storage units, sleeping quarters for the staff and a laundry room. Moving up to the ground floor, we observe the main living spaces of the residence. We find the living room, the dining room, the kitchen, a children's playroom, an office as well as a guest bathroom. All spaces are strategically positioned to face either the pool or the large surrounding garden. In addition, by the pool and in close proximity to the main house, there is a secondary structure that was converted into a gym as well as a locker room for the pool area. On the first floor of the residence, the bedrooms and a family room are located.
The morphology of the building is strictly geometric. Simple, clean volumes form a cubic plasticity which is underlined through the intensity of black and white surfaces. The main exterior white shell of the residence is interrupted by black aluminum panels which add a vertical dynamic to the exterior facades while simultaneously provide a play with light and shadows.
The color palette of the exterior facades is also transported to the interior spaces of the residence, where the dominating white color of the interior walls is interrupted by dark grey built-in furniture and various wood finishes. The serenity of the architecture is further enriched by the colorful brushes of numerous art installations and paintings throughout the house.